MATERIAL SOURCES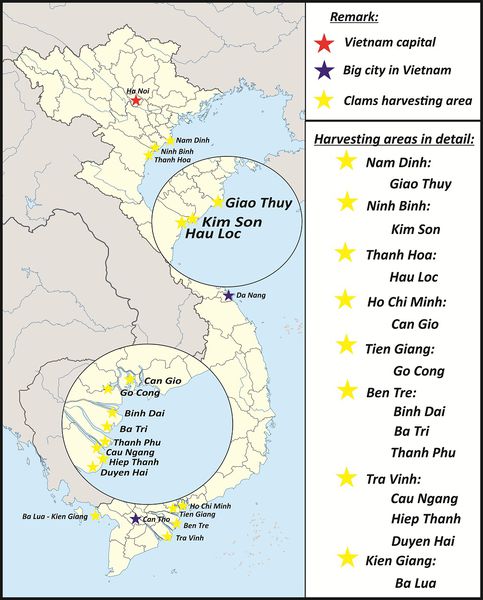 The harvesting or growing areas are close to the shore or inland waters adjacent to coastal development in 'approved' waters maintained and designated by Vietnamese state authorities. Site evaluations and water testing, are conducted to determine if waters are approved for growing and harvesting. Clams harvesters, processors and shippers are also licensed by the state regulatory agency.
Samples of clams from the selected harvesting are collected and tested for pathogen microorganism, biotoxin, and chemicals before harvesting and transporting to the factory. Each and every bag of clams harvested must be properly tagged identifying the water/area from which they are harvested, this information is then maintained and updated by the transport service provider as well as the processing plant to ensure full traceability is achieved.
Vietnamese Clams are from the Ben Tre fishery that have been MSC certified since 2009 (www.msc.org).This is the pioneering certified fisheries around the world to contribute to the health of the world's oceans.
White Clam (latin name: Meretrix Lyrata)
White Clam, Meretrix Lyrata, is a bivalve mollusk and belongs to Veneridae family, this species inhabits intertidal and shallow sub tidal and flat areas. In Vietnam, White clam is densest in coastal southern and northern areas. Northern raw material sources (FAO61) of Thanh Hoa, Thai Binh, Ninh Binh, Nam Dinh yield with average 50.000 – 60.000 tonnes/year. Southern raw material sources (FAO71) of Can Gio – Ho Chi Minh City, Go Cong – Tien Giang, Ben Tre, Tra Vinh yield with average 30.000 – 45.000 tonnes/year. In the Mekong Delta, the species is widely distributed in sand flat areas of which the highest density and production are recorded in Ben Tre province. Our raw materials are supplied mostly from FAO71.
Yellow Clam (latin name: Paphia Undulata)
Yellow clam, Paphia Undulata, is a species of saltwater clam, a marine bivalve mollusk in the family Veneridae, the Venus clams. This species inhabits inshore shallow sandy seabed in South Central areas (Binh Thuan province) and South West (Ha Tien – Kien Giang province) in Vietnam. The yield of Yellow clams in Vietname is over 50,000 tonnes/year (equivalent 10,000 tonnes of clam meats).
Fishing Methods
Commercial harvesting takes place all year round, but in order to ensure meat quality and yield the main harvesting period is from April to October. During low tide, clams are harvested manually with the aid of a rake. Nets are used to sort out the sizes that have reached commercial size while the undersized clams are returned to the their natural environment to grow further. The width of the rake and mesh size used are regulated by the management organizations of this resource. The use of machines for harvesting clams is banned. Bags of clams are taken to a boat moored on the sand where they are checked, counted and weighed, and transport to processors is normally by boat (www.msc.org).